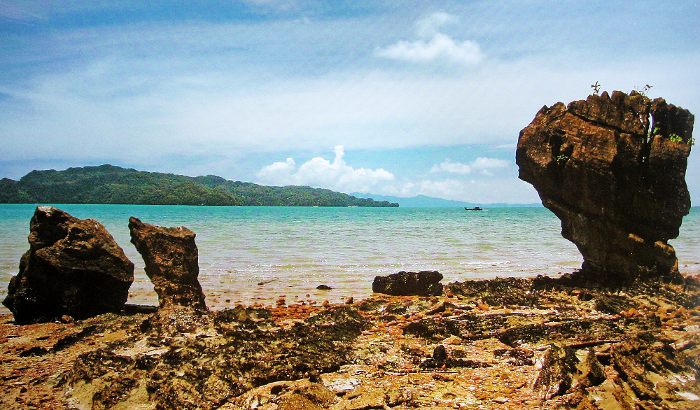 Mempelam (Mango) Bay is the location where the type section of the Setul Formation was erected. It comprises of the Ordovician Lower Limestone Member, Early Silurian Lower Detrital Member, Late Silurian Upper Limestone Member and Early to Middle Devonian Upper Detrital Member.
The changes from the Lower Limestone Member to the overlying Lower Detrital Member reflected continous rising of the ancient sea level that allowed the deposition of fine-grained siliceous and cherty rocks overlying the shallower marine limestone and limestone. The Upper Limestone Member was deposited during the subsequent drop of the sea-level.
Gastropod, cephalopod and conodonts are the dominant fossil in the Lower Limestone Member. Trilobite and graptolite dominate the Lower Detrital Member while trilobite, cephalopod , crinoid and trace fossils are the most common fossils in the Upper Limestone Member.
The Upper Detrital Member generally lacks in fossils. The prolonged erosion has resulted in the formation of broad erosion platforms at various ancient sea levels with several beautiful sea-stacks. The deformation on sandstone of the Upper Detrital Member has formed several open anticlines and synclines with some tighter crenulation folds.